Virtual Reality
7 Lessons in Leading VR Research on Campus
As immersive technologies come down in price and get easier to create content for, it may be time for your university or college to set up a program to help faculty experience virtual reality and augmented reality. A pro offers seven "VITaL" lessons.
By Dian Schaffhauser
06/26/19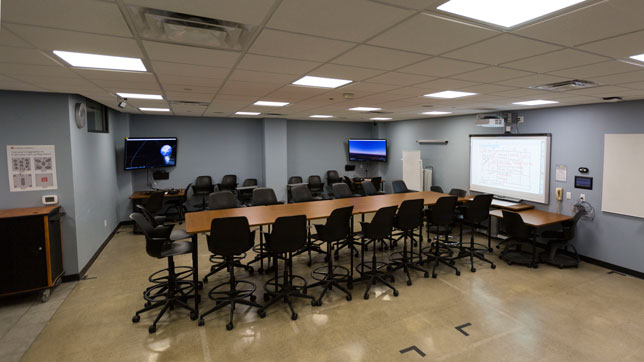 VITaL's immersive learning space
While a bunch of institutions have invested in helping faculty figure out how to use immersive technologies in their courses, few have had a campus reach as multi-tentacled as San Diego State University. Two years ago, in 2017, the California institution announced the launch of the Virtual Immersive Teaching and Learning (VITaL) initiative, which set up learning spaces and provided gear for instructors, allowing them to try out virtual reality, augmented reality, mixed reality and 360-degree immersion in their classes. Since then some three dozen faculty members have participated in projects for fields as diverse as art, astronomy, physical therapy, religious studies and hospitality & tourism management.
Led by James Frazee, senior academic technology officer and director of Instructional Technology Services, and Sean Hauze, associate director within ITS and a faculty member for the Department of Educational Leadership, VITaL's growth continues. The latest iteration, according to Frazee, emphasizes broader dissemination, more student input and bigger ambitions. Recently, he shared with Campus Technology what his university is learning about the use of immersive experiences in learning.
1) "Make It Available and They Will Come"
Recently, VITaL teamed up with the university library makerspace, buildIT, and the College of Engineering to invest in Google Expedition Kits. The new "low-priced" kits are already gaining traction in the K–12 space, and Frazee said he hopes they will allow for greater dispersal of the immersive technology into the farthest reaches of the school. The kits include student tablets and a teacher computing device, virtual reality headsets, "rapid chargers," a router and a case or charging cart. Both VITaL and the library acquired 30-student kits and the college purchased a 10-student kit. The Google kits specifically were a draw, Frazee noted, because they're capable of "device stream capacity," allowing other people to view what students are seeing in their headsets on a big screen in real time.
"Altogether, we'll have 70 of these Google expedition devices to be able to give students experiences that would be out of reach otherwise, a next important step in terms of growing and incubating the use of these technologies on campus," said Frazee. "We're trying to get new faculty who haven't had a chance, who want to be able to have an [immersive] experience where multiple people are using this simultaneously." It's "early days," he added. "Part of our ethos is make it available and they will come."
2) Partner with Students and Their Organizations
The VITaL project works with students across a continuum of use cases. First, there's the user route, where instructors introduce a unit that involves the use of VITaL resources. For example, nursing students are using augmented and mixed reality to view virtual patients. The technology, created in partnership with Microsoft and Pearson, allows learners to walk around the patient, observing him in virtual holographic form. As the observation continues, the patient breaks out in hives and begins itching and breathing rapidly. The immersive scene enables students to witness the unfolding event and develop strategies for handling it. "This gear is more affordable than a patient simulator, which costs six figures and requires annual maintenance and you have to have somebody who's there to facilitate the use of the [inauthentic] mannequin," explained Frazee.